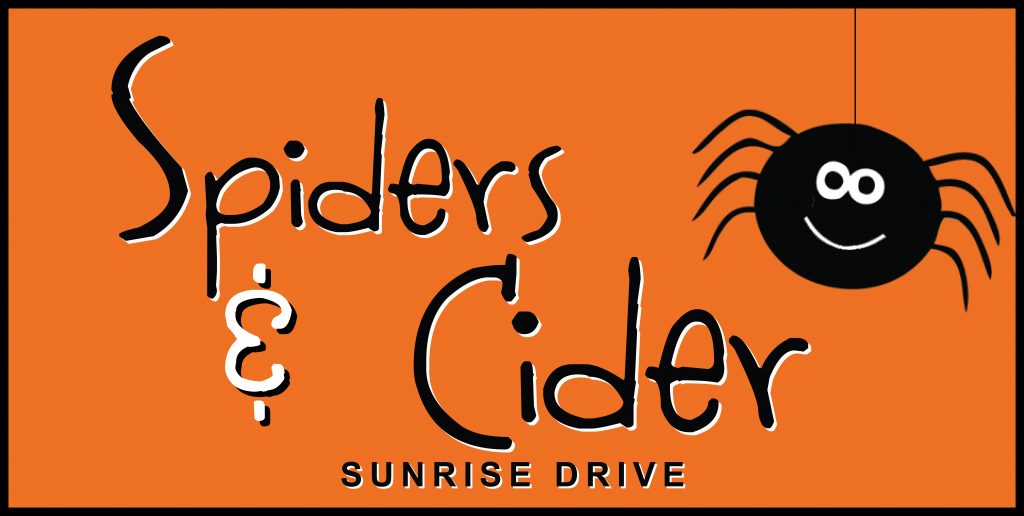 SPIDERS AND CIDER
Friday October 27th, 2023  5-8 pm
at Sunrise Drive Elementary
***BUY TICKETS HERE***
Save yourself time! Don't stand in line!
Buy your tickets ahead of time!
This 20 plus year tradition brings our Sunrise community together for a Halloween themed carnival for the children. With over 8 games, a cake walk, maze, photo booth, food, amazing raffles & spooktacular fun! Wear your favorite costumes to the event (no masks or weapons please) and enjoy a great evening!
This event is a wonderful tradition and we need your help!
VOLUNTEER HERE
If you have a company and would like to sponsor this event, view information below:
SPONSORSHIP INFO & FORM
If you would like to be a part of our Spiders and Cider Planning Committee please email:
Alissa McKaig, Co-Chair of Spiders and Cider
Valerie Menke, Co-Chair of Spiders and Cider
Know Before you Go!
TICKETS:
Ticket prices are $10 online (before the 27th) and $15 at the door.
Children 2-16 years old need a ticket. Parents/adults do not need to pay.
Please have your ticket(s) ready either on your phone or printed for quick PRE-PAID ENTRY to the event.
With PRE-PAID online tickets your Sunrise student will get a Spiders and Cider souvenir bracelet that will double as their ticket into the event to make for quick entry. They will be getting this on Friday, Oct 27th in their classroom.
RAFFLE TICKETS:
Raffle Tickets available for pre-purchase when you buy your entry tickets online: Prizes and experiences include Coffee and Chocolate, Legos, STEM/Sensory, Cooking/Baking, Sports, Family Fun Night and more!
Pre-purchased raffle tickets will be waiting for you at the *RAFFLE TABLE* located in front of the library.
Raffle tickets can be purchased at the event as well.
Tickets are $1 each – sold only in sheets of 10 tickets, for $10
There will be a cash only 50/50 raffle the day of the event!
Stay tuned for more information on the amazing online Silent Auction too!
CANDY AND BAKED GOODS DONATIONS:
We will need lots of candy and cake for our games and treat street activity! Donations can be dropped off at school or you can donate toward bulk purchase in the ticket portal.
For baked goods, we kindly ask that you bring individually wrapped treats Thursday or Friday before the event to the Teachers' Lounge.
PARKING AND ARRIVAL TO EVENT:
We will be checking families in as they arrive on campus when event opens at 5pm. All checked families will enter the event through the front gate.
You may park in either the parent or faculty lots at Sunrise Drive. We expect parking to be challenging, so there will also be a free shuttle bus going back and forth between Valley View Early Learning Center and Sunrise Elementary. Shuttle service from Valley View at 3435 E Sunrise Dr, Tucson, AZ 85718, will operate from 4:30-8:00pm, and run approximately every 15 minutes.
NIGHT OF EVENT- IMPORTANT DETAILS:
CASH: Please bring small bills ($1,$5 bills) to the event for the food items. There will be food available for sale!
COSTUMES: Wear your favorite costumes! We kindly ask that you don't wear masks or bring any toy weapons. Please note: the playground is closed during this event – please share that with your children.