Order Your Yearbook Through Picaboo
Order your 2022-2023 yearbook through
Picaboo
. To order a yearbook:
Visit Picaboo's website at https://sunrisedrive.picaboo.com/.
Enter the passcode "SD Yearbook" (case sensitive, include the space).
Click the "+ Select" Button under "Sunrise Drive 22-23".
Follow the prompts to "Register New Account" for new visitors or "Sign In" for returning visitors.
Enter student's name and grade.
Order style of yearbook (don't forget to select "e-Yearbook" at no charge)
Choice foil or no foil (by clicking "no thanks")
Enter payment information
You can choose a 9×12 inch yearbook in either a soft cover ($30) or hard cover ($37). Each order gets a free digital yearbook copy, and access to past yearbooks in the future. If you would like to, you may personalize the back 4 pages of the yearbook for an additional $5.00. This is due when you personalize the pages.
IMPORTANT DATE: We will no longer have extra yearbooks available for order at the end of the school year. To guarantee delivery of the 2022-2023 Sunrise Elementary Drive yearbook with the class, you must order a yearbook on Picaboo by a deadline that will be announced at a future date. If you do not order by the deadline, you will be able to order a 2022-2023 yearbook on the Sunrise Picaboo store when it reopens after the yearbook is submitted. You will need to pay a shipping fee and the book will be delivered to your home address. 
Contact Sabrina Romero with any questions.
Enter the passcode (case sensitive, including space):
Click the "Share photos with this yearbook" link in the top-right corner and follow the prompts.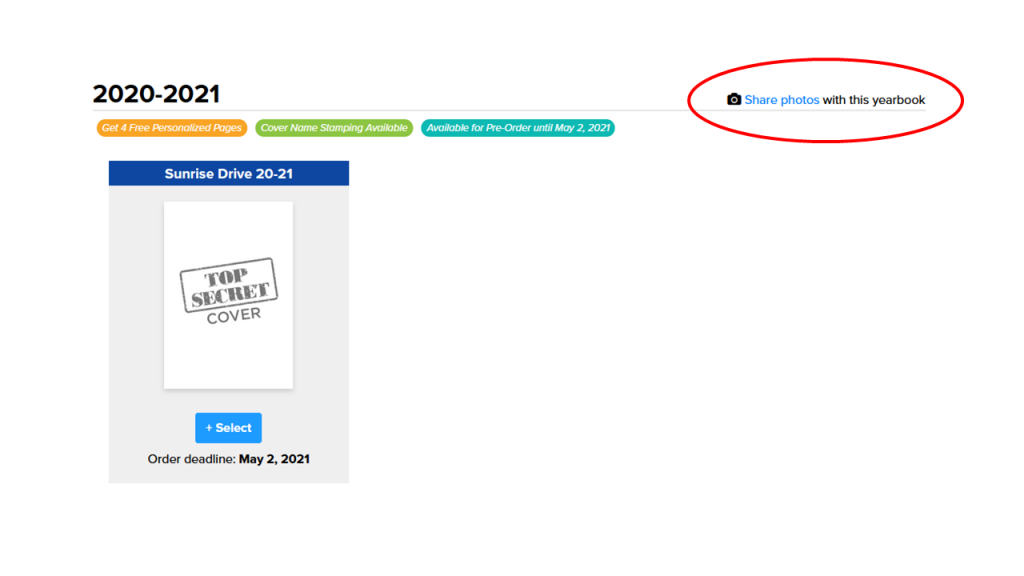 Log-in to Picaboo's website at https://sunrisedrive.picaboo.com/.
In the top right-hand corner, select "Hi, [Your Name]" and click on "My Account"
Select "Orders"
If you've ordered a yearbook, it should say "Order Pending" and you can "View Details" or "Cancel Order"